Technically, its Wednesday and YES, I am awake at a quarter to 1 in the AM! Just got done watching New Moon, rented it. Don't own it ...yet. Even though I went to the midnight release party at Borders. Got a t-shirt for 5 bucks though, 'cause I bought the graphic novel. Pshh..Don't be hat'in.
Whatever
, just waiting to get blue ray play-ah and see Edward really
*sparkle*.
Before I get off subject
. Shout out to
Vanessa
via
Shell
who inspired me to pour my heart out.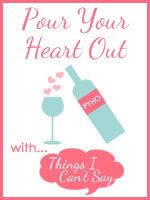 This isn't going to be easy for me and never really is. I've actually thought about talking more about my experience with infidelity and the healing process that has taken place since then. I'm not sure if that is where this is going though. What I want to pour out my heart about, currently, is the hurt and separation that I feel, on an ongoing basis.
Recently, I was asked not to be apart of 2 support groups due to the nature of my hubs offense and the groups are family oriented, which brings about concern for childrens safety. I don't really want to get too much into that here though. You can
read more here
. I am completely understanding of this and did what was initially asked of me. Hubs, was not involved in these groups.
PERIOD
. Unfortunately, fear prevailed and I was asked to leave the groups via e-mai no less.
Days
later, our small group lays out some stuff about our parenting style, as well as concern for some comments our children have made and
BOOM
, we get a visit from 2 police officers! This was
soo
much for me to take in and I am still in the process. I have forgiven each person but I can't go back to our small group. I talk with some of these people on occassion. Don't get me wrong here, they are beautiful, wonderful and loving human beings, I just have a hard time trusitng them.
Thankfully, nothing happened to our family. We are all still together and our children got a good dose of reality. Kids say stuff and have no idea what they are talking about! We homeschool, got to church/Awanas and I am pretty much with our kids
24-7.
I'm just embarassed and trying not to be consumed with rage, that no one talked to me first. This whole situation got out of control and I'm just soo grateful that God was.
I don't know how to get over this.
I am praying that God will help me. Help me choose whether to go back to this group or find another one. As of now, I can't. I don't have a desire to attend the church we've been attending either. I feel so little support and it may just be me pushing everyone away. I hear alot of "we are here for you" but can't help think it's only lip service.
The words judgement, preconceived ideas, labeling and many more come to mind. We all do this. We add 2 and 2 together, use deductive reasoning and come to a hypothesis. Well, what if its wrong. No harm done right?
WRONG
. What is that saying?
Appearances
can be deceiving?
Don't judge
a book by its cover? I'm tired of it. I'm not angry anymore. Depressed, slightly, yes. A woman can only take soo much you know!?
I hope that if those involved do read this,

please don't be offended.
This is my journey and I have choosen it, but it doesn't mean that I won't live it out with out struggle or hardships. I would just like to find friends that can handle who I am and what comes with that. As of now I have a few. Of which, 1 lives here.
Sorry, to get so deep but it had to be shared. Not in a "Hey, I just barfed on you. How was it?" kind of way, either..I hope not.
Oh, man.