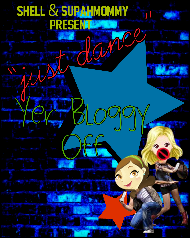 Just Dance. Get the Wii game "Just Dance" and try to get the highest score. Post the link and spread the word. WORD.
This weeks song " Bebe!
Next week song: STEP BY STEP
Just bought the game and it is sooo freakin' funtastic!
I didn't do the freeze frame but maybe next time!
Can't wait until next week!
Also, I found some old school pics and promised Kearsie that I would post 'em. Here ya go. A short history of my bad hair days.
I started out with a nice kind of Charlie's Angel's "feather".
Then evolved to "The Mushroom"
With High School brought "The Perm"
Dang Ya'll

I should be in a music video with Bon Jovi or sum'n.