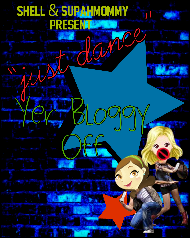 This week its Womanizer and usually I do fabulous at this song but alas not today. The more I practised the worse it got. Dude. Not cool. Now I now how it feels to be an actor. "Cut. Cut. Cut. Work with me Misty! I'm just not feeling you. I need more. Ok. Love you baby doll. Now...Action!"
I kind of feel like a Charlie's Angel. I should have a gun. In North Idaho I can carry a concealed weapon. Legally. Just FYI. Don't mess with me. I might just be 'packin'.
Wanna play? Link up at
Shell
and/or
SupahMommy
. Toodles!