I threw my back out...umm...just sitting down to play my guitar, on Tuesday. I did yoga prior and still training for the race on the first of May. So my body may just have rejected all this getting "fit" business. Well, It's doing better now. Thanks for asking. Well, kind of. I'm going to the Chiropractor today.

Also, it's my mom's birthday today. Happy Birthday Mom! My kids asked her how old she was going to be and her reply was "21". I'm not telling you how old she is cause women don't do that sort of thing. After a "certain" age. Not sure when that is though. I'm thinking 35. Ohh...I'm almost there!
I'm getting her this cool thing from Pampered Chef that's on sale. I would put a pic up and describe it more but I'm also getting it for my sis, and she blogs. Sorry. Let's just say it's pretty and practical. Actually, she said she'd rather have $20.00 for garage sailing, than a pretty practical thing! Who does she think she is?
If you keep reading there will be dancing at the end or you could just scroll down to the end and end your missery now.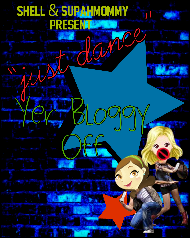 Want to join? Check out
Suppah's
or
Shell's
place for the details. Then feel free to shake it. Or swing it. It's like afternoon, here and I'm still in my pj's. There are no kids here either. I have'nt eaten anything but a banana yet today. oh and dark chocolate pomegranate balls from Costco. Mmmm...Wahh...wahh...wahh. Right? Soooo, the first vid I get, is it. Hope its a good one! I wish I had the Chipettes style and grace. I could use some Be-Dazzle.
Ok, So I cleaned up and got dressed. Needed it. No pj vid this time. Oh and practised twice. I'm such a lier. *chimpmunk voice* Muah ah ah...
Also, any tips on vid quality are appreciated. I look like a digital mess. Look at my hair. Its afro-liscious.
Have a great weekend! I'm hoping to get a Garage Sale together for Saturday and maybe Sunday. Maybe.