My kids are currently obsessed with all things Michael Jackson. We are constantly on YouTube looking up music vids and we stumbled upon this one, with a twist! These kids are AWESOME! Ah, yeah!
Whose BAD?! I'm Bad! Hee...hee...hee! OW! Schaa-mon! *spin, stomp, grab groin*
Play along. It's fun. It's hip. It's the thing to do.
Dance your Bloggy Off! It's Hammer Time! I missed last week's and WOW! this weeks song was uber hard! I practised...
a little
. Ok, twice but I couldn't practise any more though cause I would have busted a artery or had a stroke! I love Just Dance! I don't care if I win or any thing. I just wanna have fun!

C'mon and Just Dance with US! *cough* ME!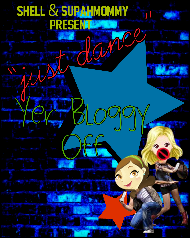 Now it's time for Friday Follow! *clap, clap, clap, clap* Click on the link bellow and link up to share your blog and find new blogs to follow!! It's all about sharing and caring.